Roofing and Home Service Related Articles

It's been over a year since the dawn of 2022, and it's time to look back at the most popular roofing materials of the year. From metal and asphalt shingles to more modern options like solar panels, homeowners have had plenty of choices when it comes to protecting their homes from the elements. But what were the most popular roofing materials of 2022? Let's take a look.
The first roofing material that comes to mind is metal. Metal roofs are incredibly durable, and they come in a variety of colors and styles to suit any home's design aesthetic. They're also relatively easy to install, making them a great choice for DIYers and contractors alike. Plus, metal roofs tend to last longer than other types of roofing materials, which can save you money in the long run.
Asphalt shingles are another option that was very popular in 2022. They come in a wide range of colors and styles, so you can easily find something that fits your home's design theme. Asphalt shingles are also relatively affordable compared with other types of roofing materials, making them an attractive option for budget-conscious homeowners. They are also very cost-effective to install and maintain – another plus!
If you want to see some inside peaks at the future of roofing, check it out!



A Glance Back at the History Of Roofing Materials
Roofing materials have been used since ancient times to protect homes from the elements, once made of pine boughs, moss, layers of bark or wood… they've come a long way since then, with technological advances and new materials allowing for greater efficiency and longer-lasting roofs. Looking back at the most popular roofing materials of 2022, it's interesting to see how far we've come in terms of roofing technology.
Today's roofing materials are designed to be more durable than ever before. Resilient metal shingles are more affordable than ever and offer superior protection against hail and wind damage. They also require less maintenance due to their long-lasting durability. Asphalt shingles remain one of the most popular options due to their affordability, but they don't last nearly as long as metal shingles do.
It would have blown minds a thousand years ago that in recent years, solar roof tiles were not only invented, but beginning to become a mainstream item, becoming increasingly popular for homeowners who want to reduce energy costs while also helping the environment. Solar roofs generate electricity from the sun and can lower monthly energy bills significantly when used in conjunction with other energy-saving measures like LED lighting or smart thermostats. The use of solar power has been steadily increasing over the past decade, making it an attractive option for those looking for renewable energy solutions that won't break their budget.
No matter what type of roof you choose, it's important to make sure that it meets your needs both now and in the future. Making an informed decision about your roof is key to getting the best performance out of it for years to come. Research different options thoroughly so you can choose a roof that will serve your home well into the future.
Popular Roofing Materials In 2022
While nothing holds a candle to the popularity of asphalt shingle roofing – in 2022, some modern materials gained some extra spotlight. It was lightweight and easy to install, so it made sense that its popularity increased over time. Steel or aluminum were usually used for re-roofing an existing structure due to their strength and durability. It was also cost effective for larger projects because it could be cut easily and required minimal maintenance.
Environmentally conscious homeowners opted for solar panels as a roofing material. Solar roofs offered benefits not found with traditional materials; they provided clean energy while also taking advantage of available tax credits and incentives. Although they were more expensive up front, they paid off in the long run with reduced utility costs and even added value to a home if ever sold in the future.
While asphalt shingle roofs remained a popular choice among many homeowners due to their affordability and wide variety of colors and styles available on the market. Asphalt shingles came in a range of shapes and sizes, making them suitable for any type of building structure or roof design imaginable. Additionally, these roofs didn't require much maintenance once installed and lasted for years depending on climate conditions.
So that's it, the long lasting durability of metal roofing may have eeked out a win over the new market of composite shingles. Solar tiles have made waves. But good old asphalt is still king across the nation. You can't go wrong with any of them!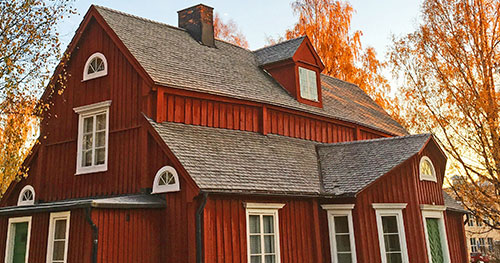 If you know it's time to get a new roof, or suspect hail damage, or need an assessment, we are here for you. We can provide pricing for roof types as well as answer any questions you have. If you know for sure you need a new roof or need emergency repair – let us know so we can expedite the process. Getting in-person pricing is easy: we'll just show up, climb the ladder, and scan the roof to see if everything is in good shape, or report any damage or age issues that could lead to leaking. Also, if you know any reason why the roof should need repaired, or where, because of damage to the interior of the home – let us know so we can inspect the interior damage and begin tracing the leak to the exact spot of failure above the rooftop.

Getting an estimate on different roofing types is also easy, as we can start with asphalt shingle pricing and also give you estimates on composite or other types. There are a lot to choose from, but many people these days are choosing asphalt shingle, but that doesn't mean you can go all-out and get a 40-50 year roof type like metal or composite. It might be interesting to factor in the savings from such a roof, as now many people are informed about how inflation works – paying for a 50 year roof now can actually be a hedge against inflation as replacing shingles in 20 years will involve the dollar-inflationary cost of money in the FUTURE! Crazy to imagine saving a ton of money from buying a better roof today!
If you are unsure of what type you want, you can always use online searches to understand some of the materials, just look at some of our other service pages, such as shingle type to see a list of various materials.
Many people ask, why does everyone seem to use asphalt shingles? The truth is, it's the norm, and it's also super cost efficient. They are great materials, though others are tougher and last longer, or serve different purposes. There is certainly nothing wrong with asphalt, especially when installed professionally with the proper flashing and ventilation. There is so much to know about this topic, but we will make it all easy to understand!
If you have any questions or want to skip the jazz and get us on your roof to see what's going on – that's why we are here! We look forward to seeing if you need us, and if so, how we can help!
LET'S TALK ROOFING!

There are many excellent modern roof materials and options and an easy way to get started - we're just a call away!

Inspecting an old or damaged roof benefits from a professional level of knowledge: this can help save you in the long term.  Some roofs have more life left in them, while others need a quick fix before trouble can arrise.  Choices like this are important to assess before leakage can occur.  A thorough inspection can really yield great peace of mind!